Published: Monday, 06 February 2017
Credit: Natália Camps Pimenta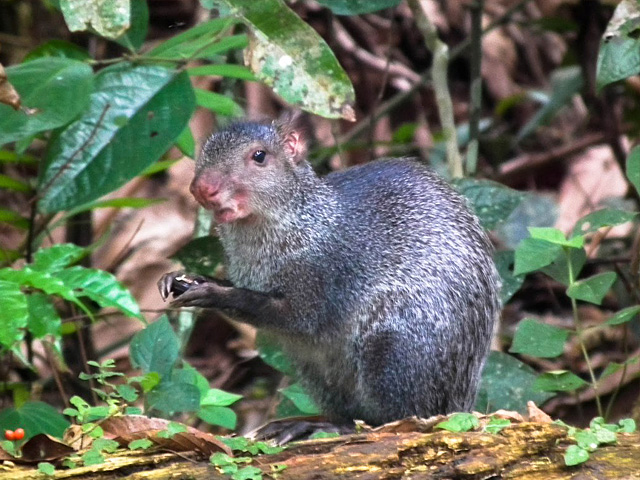 Rodent bite marks on amazonian fruits and seeds can be assigned to size-defined species groups. Ana Carolina Antunes found this out in her Ecology masters project, which was recently published in Mammalian Biology. Fruits and seeds with rodent bite marks were collected on trails in terra firme and floodplain forests in Jaú National Park.
The width of the mark left by the upper incisors of the rodent on the fruit/seed was measured and compared with upper incisor marks of museum specimens impressed on Plastiline blocks. The average width of the incisor marks on Plastiline correlated nicely with the average body length of species, allowing the assignment of bite marks on fruits and seeds to size-class subsets of the 22 rodent species potentially occurring in Jaú NP.
It turned out that larger rodents preferred to interact with larger and harder fruit/seeds, while fewer species interacted with the smaller fruit/seeds.
It seems that rodents prefer to go for the higher overall energy content of larger fruit/seeds. Fruit/seeds of Inga obidensis, Amanoa oblongifolia and Theobroma sylvestre had the highest diversity of bite-mark sizes, suggesting these three plant species are sought after by many rodent species.
Although the identification method does not allow for precise species assignment, because of size overlap among species, it is an easy-to-use and cheap tool that allows to reduce the likely suite of species associated with a specific fruit/seed sample.
The thesis was supervised by Adrian Barnett and Fabrício Baccaro.