Published: Wednesday, 31 May 2017
Credit: Débora Souza-Ferreira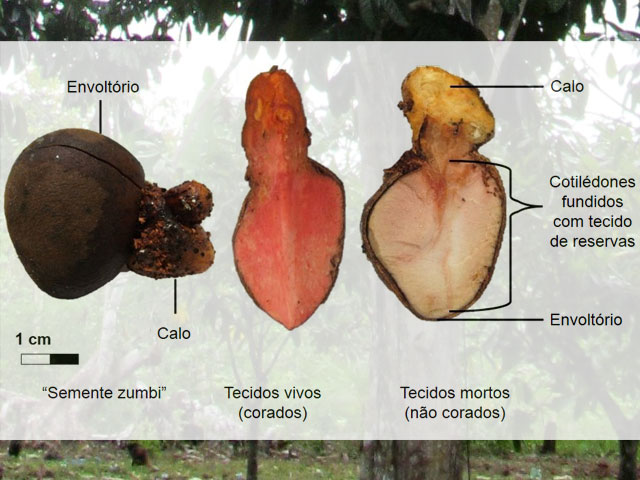 For her master's project in Ecology, Débora Souza Ferreira investigated the phenomenon of polyembryony in the seeds of Carapa surinamensis, an Amazonian species of this pan-tropical genus of trees of the family Meliacea. The study was published in the South African Journal of Botany.
Polyembryony (the presence of more than one embryo in a single seed) occurs in 115 of 348 plant falmilies, but is rare in Meliaceae, and within Carapa it apparently occurs only in C. surinamensis.  
In order to quantify the occurence of polyembrony in C. surinamensis, Debora collected seeds in Manaus and Silves, in the central Amazon region, and sowed 300 seeds in greenhouse conditions. Out of the 249 seeds that germinated, 50% had multiple shoots, from two to five per seed. There was no significant association of the number of shoots with seed mass, which means that more embryos per seed did not necessarily have more reserve tissue to use for germination and growth. However, all shoots were transplanted and raised individually for six months, and all survived and developed normally.
The intervals between the first and last shoot tended to be below 20 days for seeds with up to three shoots, and of 12 to 46 days for seeds with four and five shoots. The authors hypothesized that a long time span between shoots may be an advantage for the mother plant in case the first shoot is pruned by herbivores.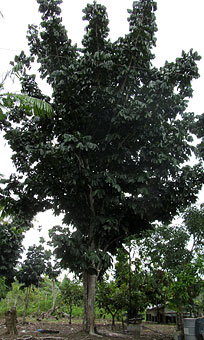 In order to test whether polyembrionic seeds may confer an advantage in face of shoot pruning by rodents, Debora carried out another experiment, submitting seeds of C. surinamensis and C. guianensis (which are exclusively monoembryonic) to simulated seed manipulation by rodents. When only the radicle meristem was removed, re-sprouting occured in about 50% of both species. But when both the radicle and apical meristem were removed, no re-sprouting occured in any species. Despite that, reserve tissues of around 80% of both specie's seeds remained viable for at least six months. This phenomenon had already been observed in another study after pruning of the shoots by agouties. The seeds that were alive but did not germinate were called "zombie seeds", and served as a long-term food resource for the agouties.
The authors concluded that polyembryony in C. surinamensis confers no advantage over the monoembryonic seeds of C. guianensis following post-germination manipulation by rodents. However, the long-term viability of "zombie seeds" may be of mutual benefit for the rodents, that can keep oil-rich seeds that are edible for a long time, and for the mother plant, that may extend its dispersal area if some of the pruned seeds can re-sprout. 
Debora's masters project was supervised by Isolde Ferraz, and co-supervised by José Luis Camargo.
The cover image shows zombie-seeds of Carapa surinamensis. The red staining is used to confirm that the reserve tissues are active and viable after six months. The other image is of an adult individual of C. surinamensis.